Stuart Turner Refurbishments
The Shower Doctors are
Ireland's only official Stuart Turner service agent

.

After many years of uninterrupted service, your Stuart Turner Pump may show signs of wear and tear. This can present itself in any number of ways, from the pump not coming on, to not shutting off, and everything else in between. Should this occur it may not mean a very expensive replacement pump is required.

Most Stuart Turner pumps can be reconditioned and put back into service for many years after. This is because it is rarely the actual motor has failed but rather some other ancillary component which has caused the problem. This can be put right but rather than just replacing the part that failed we have found it best practice to go that little bit further.
Only Genuine Parts and Spares Used
The Shower Doctors are the only officially appointed service agents for Stuart Turner pumps in Ireland. All our staff are factory trained and continually assessed to uphold Stuart Turner's standards. We only use genuine spare parts which are purchased directly from the manufacturer during our refurbishment.
During this process we replace ALL Electrical and Mechanical Components including all seals are replaced for a price which is significantly less than the cost of a new pump. This will add longevity to the life of the pump because the components were replaced simultaneously.
The Shower Doctors also offer a warranty on any pumps reconditioned in our office in Park West.
Give us a call on 016205657 for further information or book an appointment below.
Book a Stuart Turner Pump Refurbishment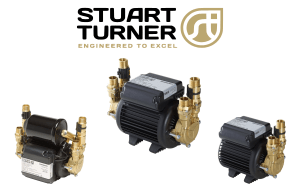 Stuart Turner are internationally recognised as the leading manufacturers of quality shower pumps, whole house water pressure boosting pumps and pump solutions for low water pressure problems and waste water removal.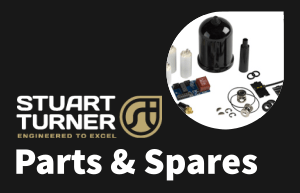 Need to repair a Stuart Turner pump? Click here to find parts and spares for Stuart Turner pumps, from Ireland's only officially appointed service agents for genuine Stuart Turner pumps, parts and spares.
After years of continuous and reliable service your Stuart Turner Pump may show signs of aging and start to function incorrectly. However, this does not necessarily mean an expensive replacement pump is required. 
Only genuine parts and spares used
The Shower Doctors is the officially approved service agent for a number of leading shower and shower pump manufacturers and distributors situated both here in Ireland and the U.K.
This means that we are able to provide our customers with their showers, pumps and servicing as well as the ongoing technical expertise required, with the support of the manufacturers to back up our services, unlike many others in the industry.
One problem in our industry is the prevalence of sub-par parts and spares being used to fix showers which can lead to reduced life spans and can have further damaging effects when used unknowingly. Our service engineers use only genuine parts and spares for showers and shower pump repairs.

We are Ireland's ONLY official provider of Stuart Turner parts and spares. To ensure your Stuart Turner pump is serviced with only genuine parts, book a service with our engineers today. We provide nationwide coverage at excellent rates, along with unbeatable guarantees.